YOUR SOURCE FOR EQUINE & BOVINE SPECIALTY ITEMS.
Welcome to:
Hoof Trimming Specialties ®
We have been in the hoof trimming business since 1992. We pride ourselves on providing customers with the best-quality products designed for use by the Professional Hoof Trimmer/ Farrier
TREADS® Brand Hoof Blocks
Click to go to TREADS® Instructions Page
Control adhesive set with aid of 12v warmer/cooler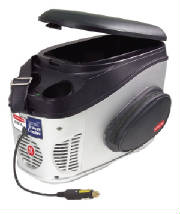 Click picture to go to online shopping.
Don't be left out in the cold. Use our Hoof Block warmer cooler to store your hoof blocks. Keep them warm during cold weather or your adhesive cool during hot weather. Allows you to block cows when weather conditions aren't in your favor. This is just a sample of the type of products we carry. Our goal is to provide you with quality products that may make your job a little easier.
Farriers Use: Glue on shoes and or storing Urethane adhesives for better control of set up during extreme weather conditions.
We look forward to doing business with you.
We take an enormous pride in creating our products, and hope that you will find something in our catalog that you like. We also can create custom orders; call or email and let us know what you want.We look forward to doing business with you.
We accept the following credit cards via Pay Pal:

We are proud members of the following organizations:

By joining our mailing list, you will be the first to know about:
Breaking news about our business
Helpful tips
Exclusive special offers
To join, click the Go button: